Registered Massage Therapy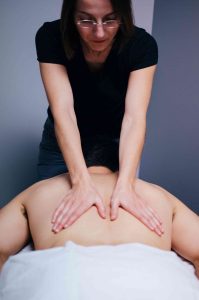 Our NW Calgary registered massage therapists, Bronte Rozak, Mavis Wahl-LeBlanc and Rihana Middleton use multiple massage therapy techniques for your comprehensive massage.
The main technique applied at Complete Chiropractic & Sports Therapy (CCST) is deep tissue massage (or Sports Massage). This technique uses a directed pressure to work deep into the muscle and connective tissue. This technique helps release muscle tension, break down adhesions, and loosen tight connective tissue. This technique works well for preparation and recovery from, sporting activities.
Deep tissue massage can relieve muscle tension, strains, and spasms, decrease pain, shorten post event recovery, and aid healing of ligament sprains.  Swedish massage incorporates friction, kneading, tapping and long gliding strokes. The pressure can be either light or deep depending on your massage needs, and personal tastes. This form of massage is also most often associated with relaxation massage.  Our massage therapists are also certified in cranio-sacral therapy and cupping.
We are also happy to offer Hot Stone Massage with Bronte or specialized Prenatal and Postnatal Massage with Rihana.
Evening and weekend massages are available!